Canceled-----Freshman Baseball game at Pacific has been canceled today due to weather.

Join us for a great Band Concert tomorrow night! HHS Auditorium at 7 pm.

Check out this week's Bearcat Athletics! Please note, the baseball games against Owensville are canceled for tonight.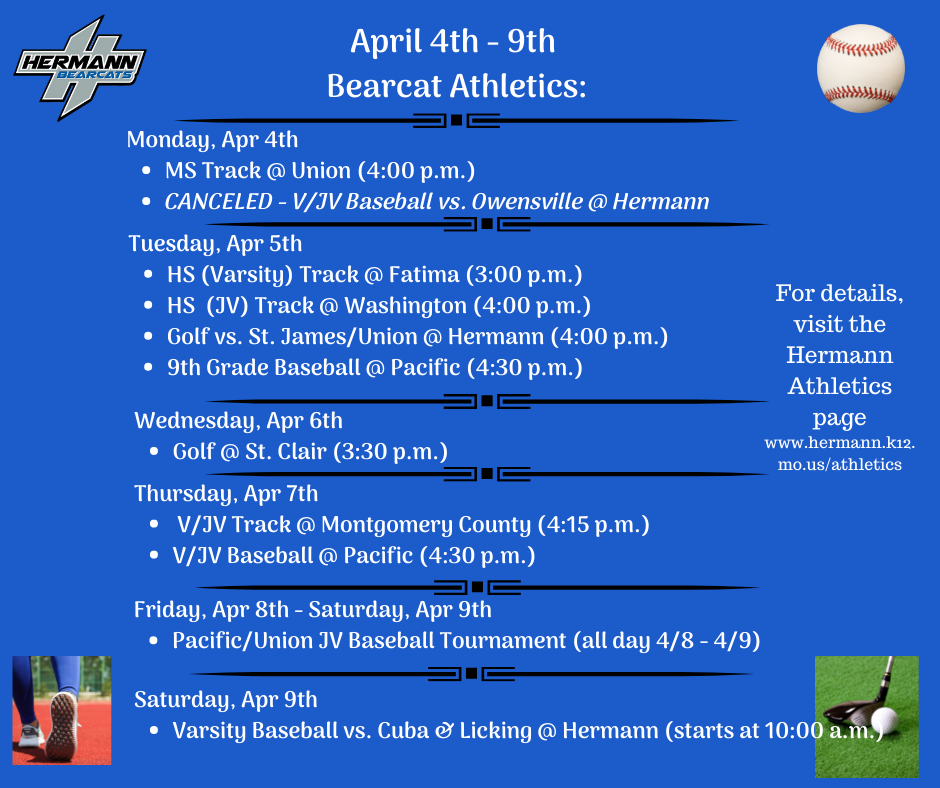 Physics and fun come together at Hermann High - we had a great day for the Trebuchet launches!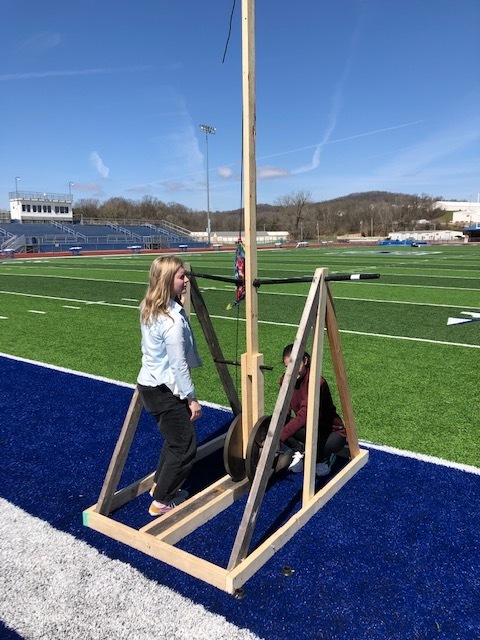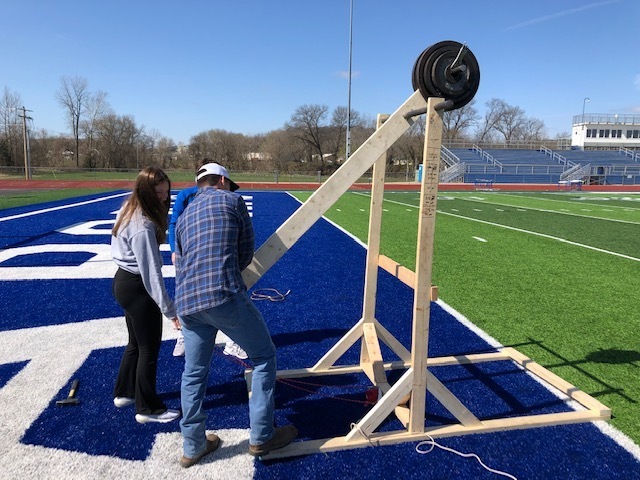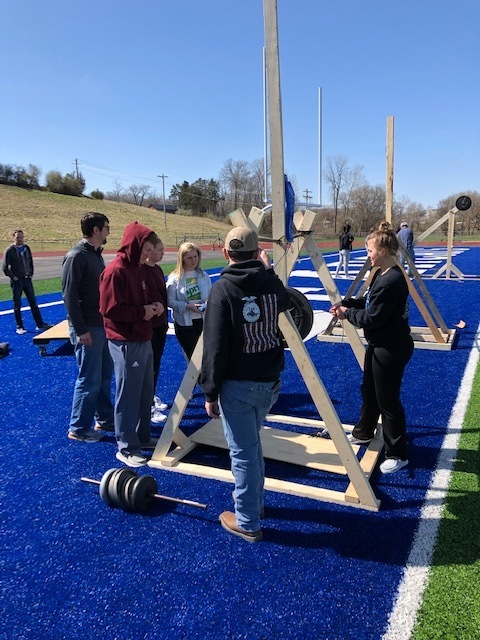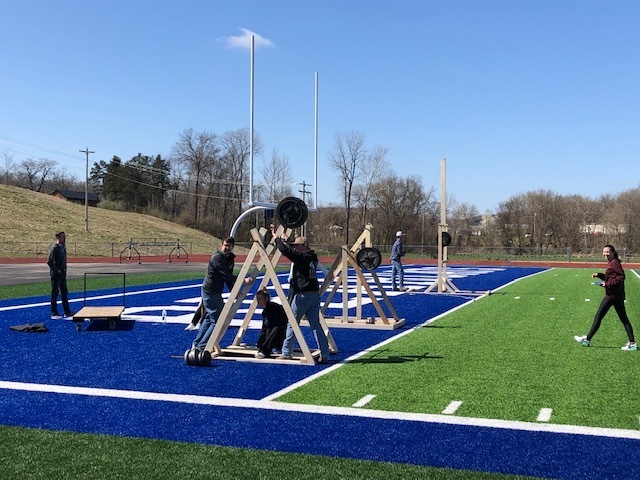 Gasconade County R-1 is proud to host the Hermann Chamber of Commerce Meet the Candidate Night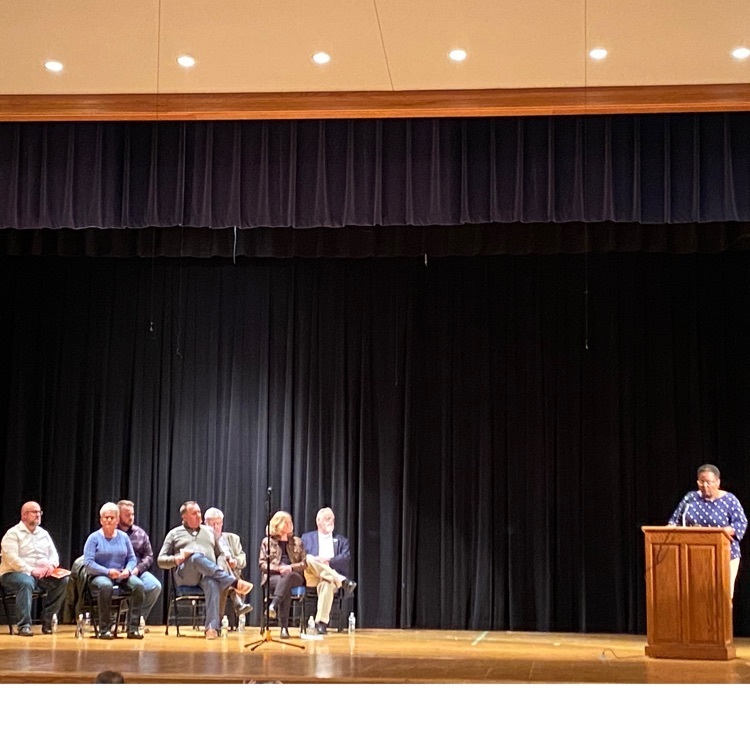 Make memories with your child and help make our FCCLA National Contest dreams come true! Princesses of all ages are encouraged to put on their favorite playtime dress and join FCCLA for a Tiny Tea party on April 10th, 12-3 pm. You will visit various stations fit for royalty! Activities are also available for any young Prince who tags along! Walk-ins are welcome but if possible, please RSVP to help us ensure each princess gets the royal treatment she deserves. RSVP here:
https://forms.gle/9qyJrVpAwQC5MKEw5
You can pay when you arrive or send payment to HS FCCLA 176 Bearcat Crossing Hermann, MO 65041. Looking forward to seeing you there!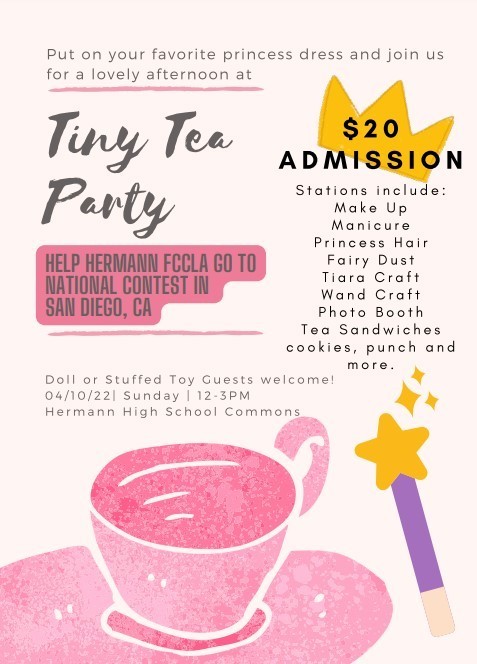 The Hermann Area Chamber of Commerce is sponsoring "Meet the Candidates Night" tomorrow, March 30th at 7 p.m. at the HHS Auditorium. You will hear from the candidates for Mayor, Alderman, and School Board.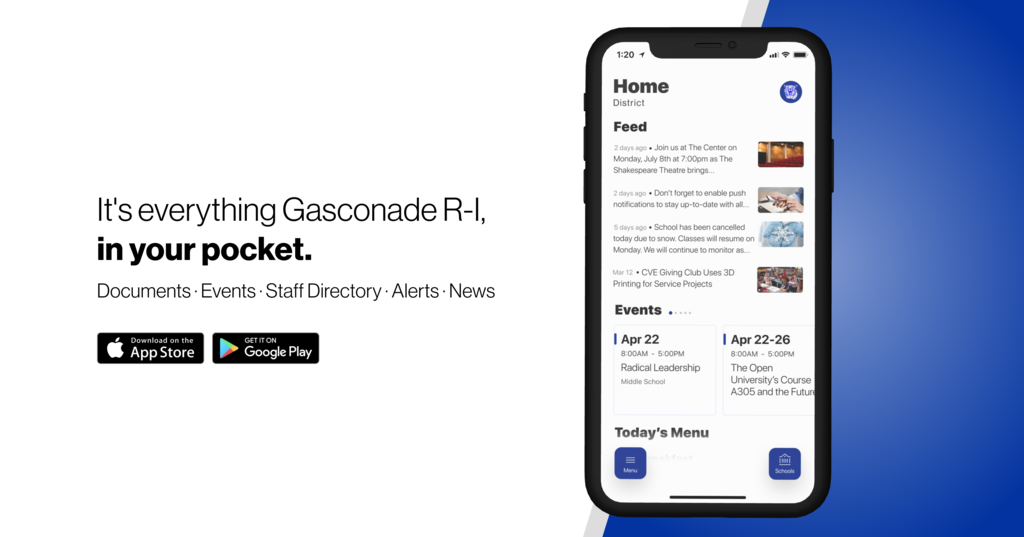 Baseball Game Update: Due to the predicted forecast, we are moving the game scheduled for this Thursday against Silex to tomorrow, March 29th. The varsity game will start at 4:30

Check out this week's Bearcat Athletics!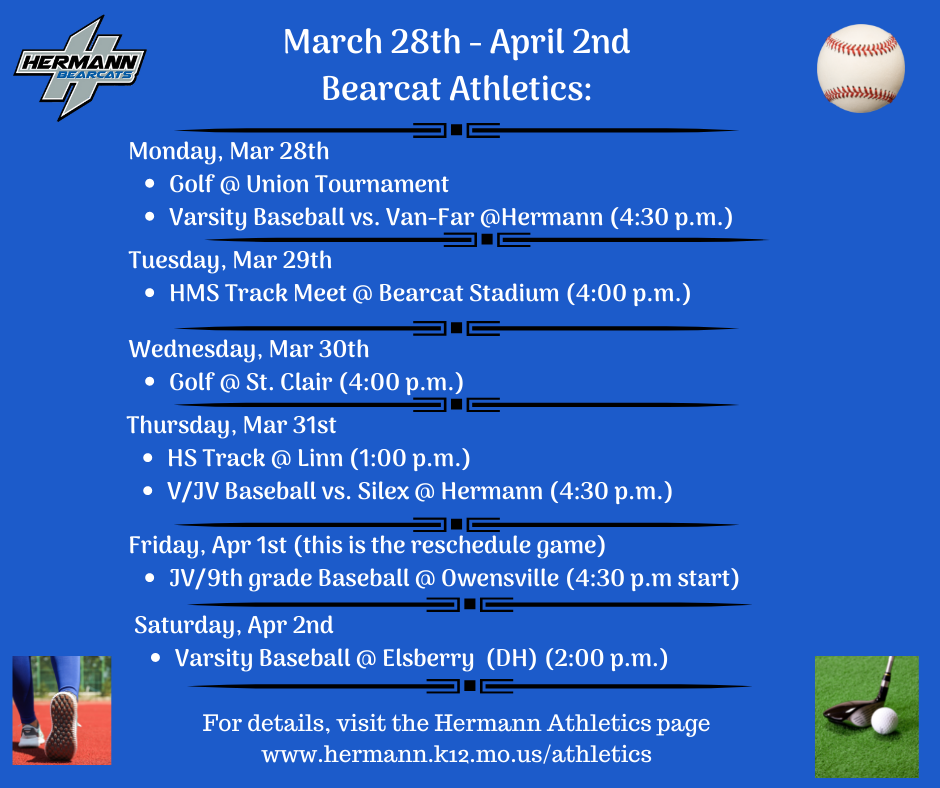 Join us as we congratulate our 13 HHS Art Students who had artwork accepted into the 36th Annual Four Rivers Conference Art Competition! Of these students, 4 students won individual awards; they will be honored at a closing reception at the ECC Art Gallery from 5 - 7 pm on April 7th. Students' artwork on display: Natalie Lotshaw, Danielle Allen, Maddison Jaegers, Grace Godat, Lizzie Chorley, Jill Rood, Emely Farmer, Alivia Christian, Amelia Uthlaut, Katlin White, Dane Shockley, Averie Holifield, and Karigan Lane. Awards: *1st Place in Prints - Natalie Lotshaw, 10, "Roses" print *2nd Place in Prints - Maddison Jaegers, 12, "Raven Eye" print *3rd Place in Prints - Danielle Allen, 10, "Dolly" print *1st Place in Mixed Media - Grace Godat, 12, "Wycinanki" cut-paper design *1st Place in Fiber - Grace Godat, 12 " My Stocking" *2nd Place in Painting - Maddison Jaegers, 12, "Strings" painting * Natalie Lotshaw won Best of Show in Two-Dimensional Art for her print. Their art is hanging in the East Central Art Gallery through Thursday, April 7, 2022. The ECC Art Gallery Exhibit is open to the public M-F from 8 am to 8 pm.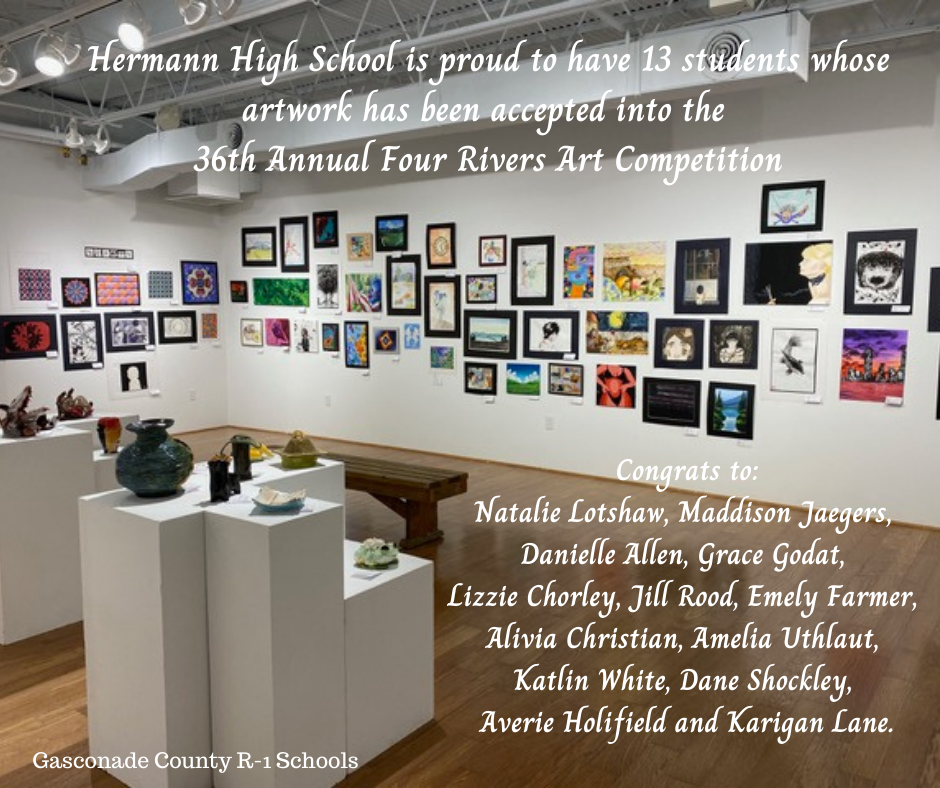 HMS Book Drive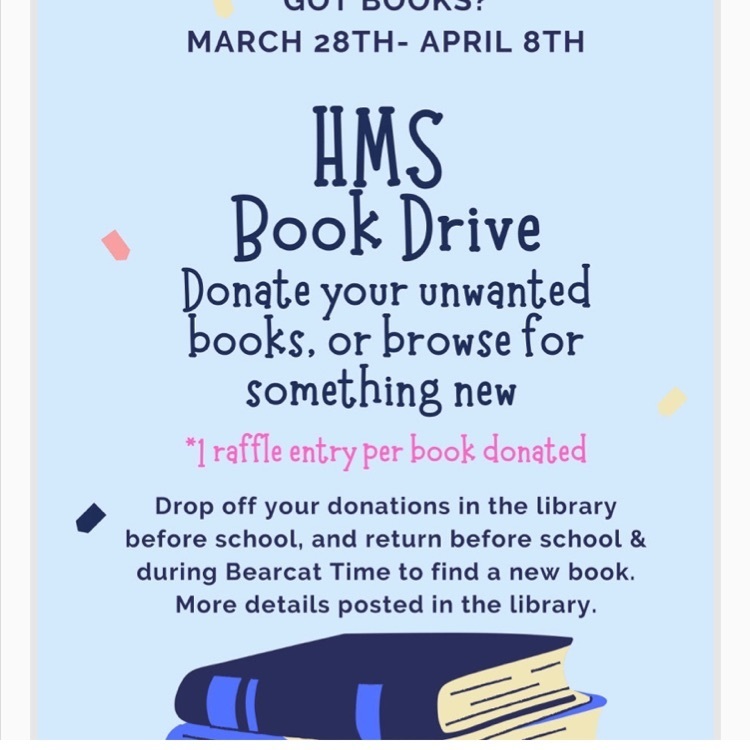 Join us this Friday at HHS Auditorium for our Choir Concert!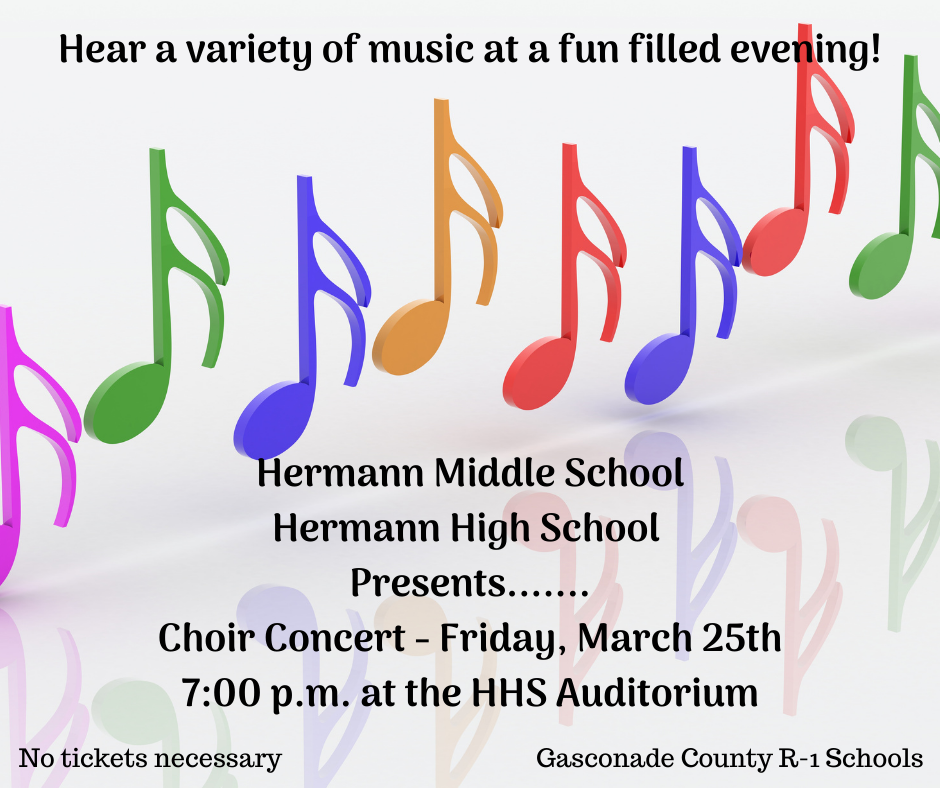 Meet the Candidates is March 30th - sponsored by the Hermann Area of Commerce.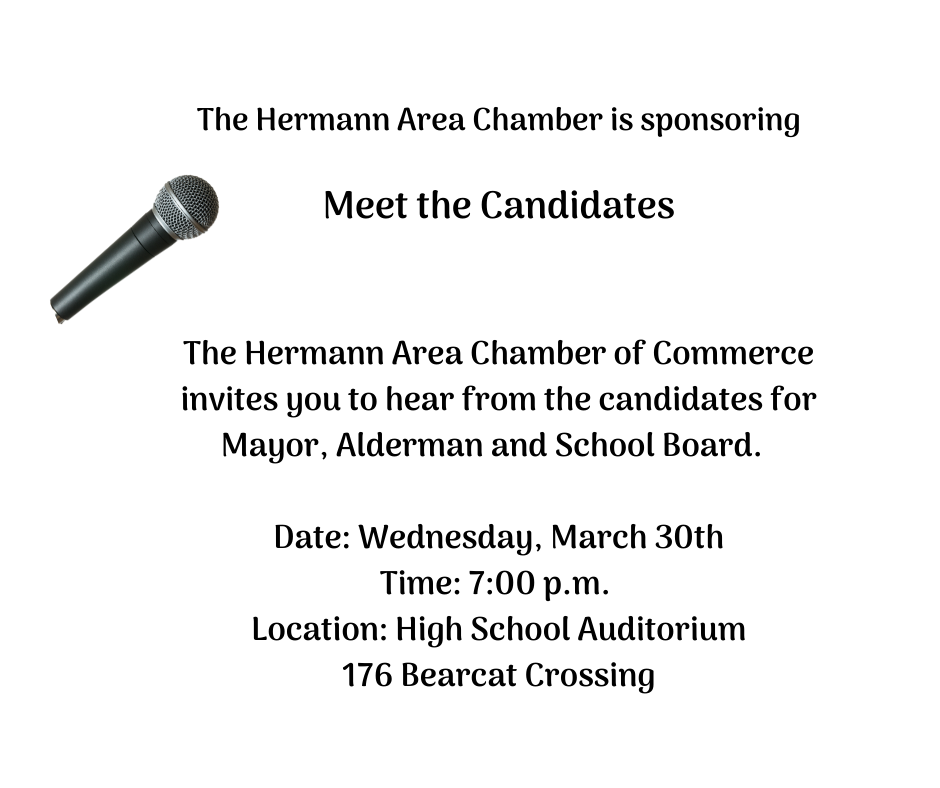 We had our 3rd Coffee and Conversation and had a great discussion with our community businesses. It is always a good day when you get to talk about the great schools in Hermann, MO! Special thanks to Fernweh, Espresso Laine and Sugar & Spice Laura's Delights for all your help with our program. The presentation link is:
https://bit.ly/3wK9mHp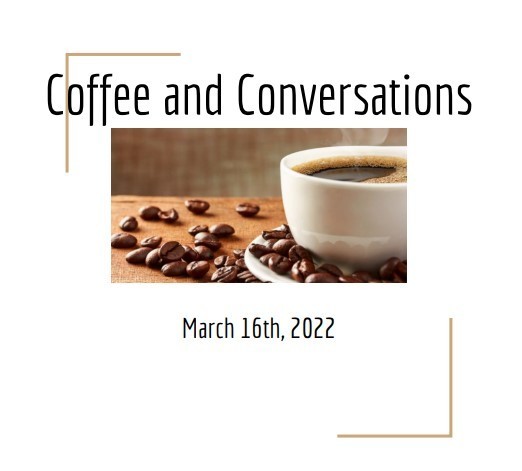 Join us this Friday for our Choir Concert!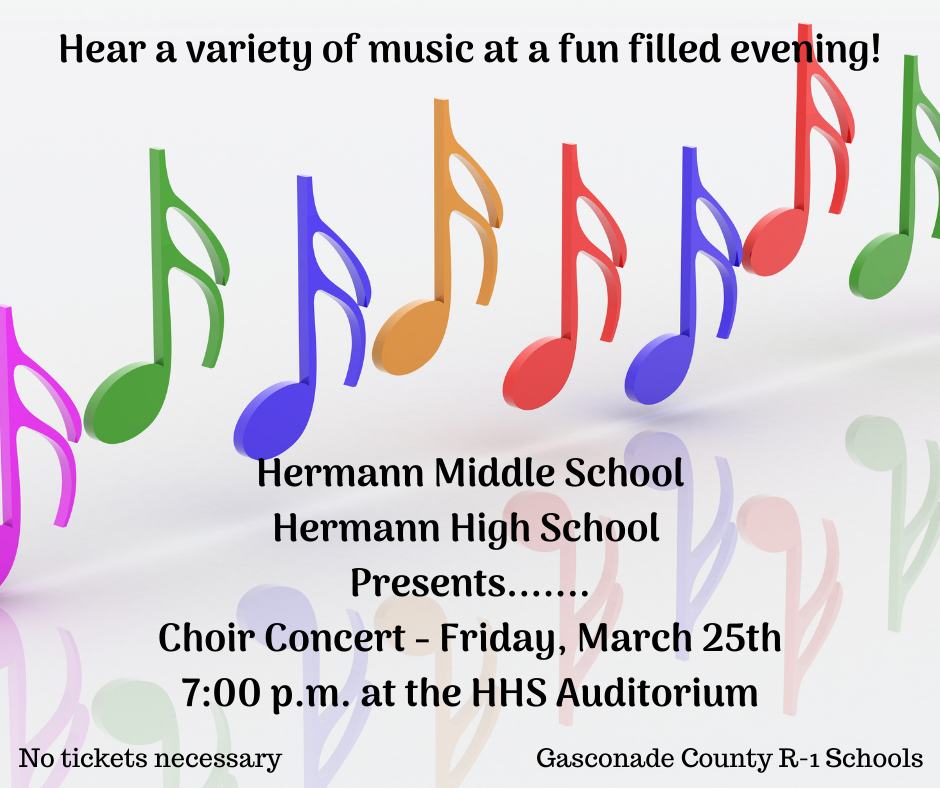 Check out our Bearcat Athletics for this week!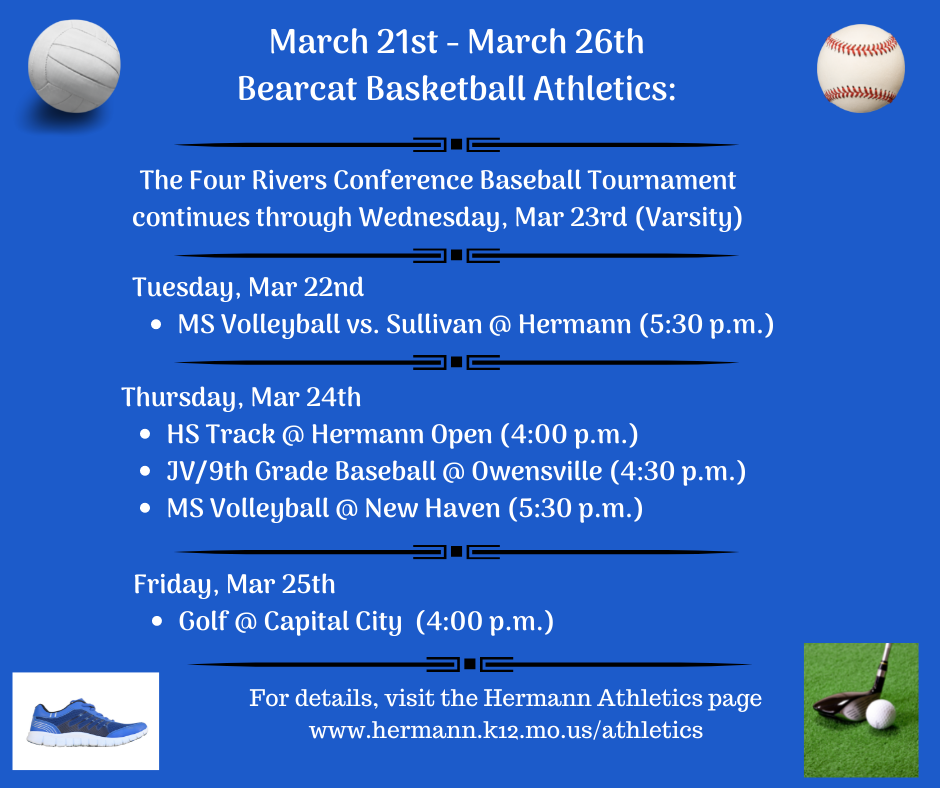 Baseball Game Update: Today's baseball game (3/18) at Union has been postponed and rescheduled for tomorrow in Owensville. The start time will be 1:00.

Hermann Middle School - Spring Sports Pictures Volleyball - Tuesday, March 22 Track and Field - Monday, March 28 All Athletes will be photographed for media purposes. All orders must be placed online. To pre-order visit
www.WagnerPortraitGroup.com
and use the following password: HRMM8185